Alabama Locksmith Services
Safety and security are a top priority for everyone. Give us a call today for a free quote!
Alabama Locksmith Service
24-HOUR COVERAGE
The craziest things imaginable are pretty much guaranteed to happen at the worst possible time.
When you need a locksmith to come to your rescue, we'll be there. Rain or Shine. Day or Night.
It's funny how most people in Alabama never even think about a locksmith until the moment they need one. Many of our customers are surprised and amazed. A few have exclaimed "I've never met a locksmith before" while others lovingly joke "they hope to never see us again!". While it is true that most customers are one-hit wonders, we do have some pretty loyal customers! We appreciate that! If you are searching for a locksmith in Alabama to meet your needs, we invite you to consider us! We are Unlock it For Me. Licensed & Insured with over 20 Years of combined experience. We will take care of your Alabama locksmith needs.
LICENSED ALABAMA LOCKSMITH SERVICE
Automotive Keys Cut & Programmed
Broken Key Extraction & Replacement
Car Door Unlocking - Keys Locked Inside
Eviction Service - Secure your Property
Keys Copied & Cloned
Locked Out of Home, Apartment, or Condo
Master Key Systems for Businesses
Pick Locks & Remove Storage Locks
Replace Stolen Keys & Change Locks
Residential & Commercial Locks ReKeyed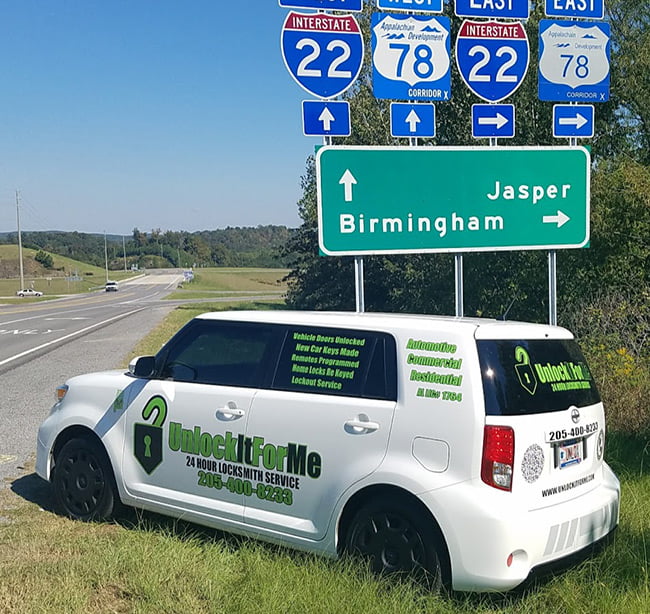 24 HOUR EMERGENCY SERVICE. ONE CALL AWAY.
If you need a 24 Hour Emergency Locksmith in Birmingham, AL, we are here and ready to serve you.  All of the technicians we send out for providing services are individually licensed by the Alabama Electronic Security Board of Licensure which governs and maintains a record of all locksmiths, background checked, insured, and verified. For this reason, you should not deal with any unlicensed locksmiths in Alabama. You may be putting your safety or security at risk by dealing with an unlicensed worker.
AUTOMOTIVE KEYS & REMOTES
Lost Car Key Replacement Service
Parameter Reset for Ford Vehicles
Reset Vehicle Immobilizer
Smart Keys & Keyless Remotes
Transponder Keys Duplicated & Originated
OEM Quality Remote Keys & Key Fobs
30 Day Warranty on All Parts Sold
On-Site Service - We come to YOU!
COMMERCIAL LOCK & KEY SERVICE
Broken Key Removal
Door Closers Installed
Mortise & Rim Cylinder Locks Serviced & Installed
Locks Re-Keyed, Repaired & Replaced
Vandalism or Break In Restoration
Master Key Systems Designed & Installed
Interchangeable Core Lock Systems
Restricted Keyway & High-Security Locks
Lockout Service
Install New Locks
Re-Key Existing Locks
All Locks Keyed Alike
Electronic Keypad Installation
Mechanical Push Button Locks
CCTV & Digital Security Cameras