Montgomery Locksmith Services
Safety and security are a top priority for everyone. Give us a call today for a free quote!
MONTGOMERY LOCKSMITH SERVICES
You've heard the phrase drive a little save a lot? We believe in it! Our locksmith's service the Montgomery Area! We are there if you need us to replace a lost set of keys, or re-key your home. We're just a short trip down 85. OEM Replacement Car Keys, Remotes and Proximity Keys Sold Here! We come directly to your location and take care of your needs no matter the situation.
If you need a residential locksmith in Montgomery, we offer a variety of services to suit your needs. Do you need your locks rekeyed because you just moved in and don't know who has a key? Perhaps your hardware has not aged so gracefully, and the once mirror finish is now cracked and black. We can get your lock and key needs taken care of in the Montgomery Alabama Area.  New hardware installations are quick and easy, and we will ensure each lock is keyed alike for your security and convenience. No more fumbling with two keys. Does this one work this lock..or the back door... Don't worry about it! We will give you one key for all!
FAST AND AFFORDABLE 24/7 HOUR EMERGENCY LOCKSMITH SERVICES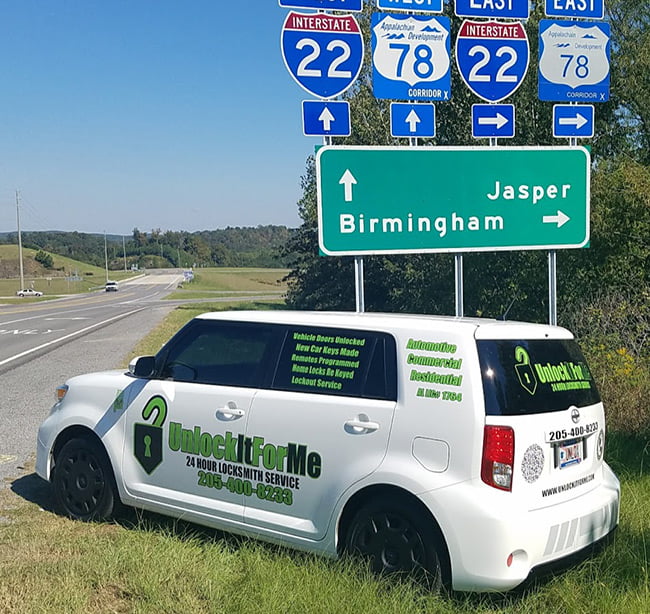 24 HOUR EMERGENCY SERVICE. ONE CALL AWAY.
If you need a 24 Hour Emergency Locksmith in Birmingham, AL, we are here and ready to serve you.  All of the technicians we send out for providing services are individually licensed by the Alabama Electronic Security Board of Licensure which governs and maintains a record of all locksmiths, background checked, insured, and verified. For this reason, you should not deal with any unlicensed locksmiths in Alabama. You may be putting your safety or security at risk by dealing with an unlicensed worker.
24-HOUR COVERAGE
The craziest things imaginable are pretty much guaranteed to happen at the worst possible time.
When you need a locksmith to come to your rescue, we'll be there. Rain or Shine. Day or Night.
It's funny how most people in Alabama never even think about a locksmith until the moment they need one. Many of our customers are surprised and amazed. A few have exclaimed "I've never met a locksmith before" while others lovingly joke "they hope to never see us again!". While it is true that most customers are one-hit wonders, we do have some pretty loyal customers! We appreciate that! If you are searching for a locksmith in Alabama to meet your needs, we invite you to consider us! We are Unlock it For Me. Licensed & Insured with over 20 Years of combined experience. We will take care of your Alabama locksmith needs.
LICENSED ALABAMA LOCKSMITH SERVICE
Automotive Keys Cut & Programmed
Broken Key Extraction & Replacement
Car Door Unlocking - Keys Locked Inside
Eviction Service - Secure your Property
Keys Copied & Cloned
Locked Out of Home, Apartment, or Condo
Master Key Systems for Businesses
Pick Locks & Remove Storage Locks
Replace Stolen Keys & Change Locks
Residential & Commercial Locks ReKeyed