Notasulga Alabama Locksmith Services
Safety and security are a top priority for everyone. Give us a call today for a free quote!
LICENSED ALABAMA LOCKSMITH SERVICE - 24 HOUR COVERAGE
When you become locked out, or lose your car keys, it can be a hassle. With us, it won't be. We're local locksmiths just down the road from Notasulga, Alabama. Our services are dispatched out of Auburn, but we proudly service the outlying areas with our professional locksmith services. We can perform a variety of locksmith services including but not limited to the following:
AUTOMOTIVE KEYS & REMOTES
Lost Car Key Replacement Service
Parameter Reset for Ford Vehicles
Reset Vehicle Immobilizer
Smart Keys & Keyless Remotes
Transponder Keys Duplicated & Originated
OEM Quality Remote Keys & Key Fobs
30 Day Warranty on All Parts Sold
On-Site Service - We come to YOU!
COMMERCIAL LOCK & KEY SERVICE
Broken Key Removal
Door Closers Installed
Mortise & Rim Cylinder Locks Serviced & Installed
Locks Re-Keyed, Repaired & Replaced
Vandalism or Break In Restoration
Master Key Systems Designed & Installed
Interchangeable Core Lock Systems
Restricted Keyway & High-Security Locks
Lockout Service
Install New Locks
Re-Key Existing Locks
All Locks Keyed Alike
Electronic Keypad Installation
Mechanical Push Button Locks
CCTV & Digital Security Cameras
FAST AND AFFORDABLE 24/7 HOUR EMERGENCY LOCKSMITH SERVICES IN ALABAMA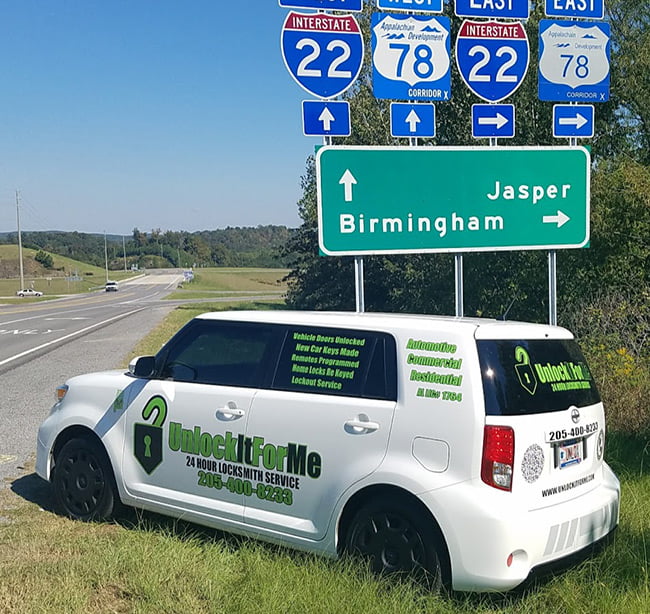 LICENSED ALABAMA LOCKSMITH SERVICE
Automotive Keys Cut & Programmed
Broken Key Extraction & Replacement
Car Door Unlocking - Keys Locked Inside
Eviction Service - Secure your Property
Keys Copied & Cloned
Locked Out of Home, Apartment, or Condo
Master Key Systems for Businesses
Pick Locks & Remove Storage Locks
Replace Stolen Keys & Change Locks
Residential & Commercial Locks ReKeyed
24-HOUR COVERAGE
The craziest things imaginable are pretty much guaranteed to happen at the worst possible time.
When you need a locksmith to come to your rescue, we'll be there. Rain or Shine. Day or Night. It's funny how most people in Alabama never even think about a locksmith until the moment they need one. Many of our customers are surprised and amazed. A few have exclaimed "I've never met a locksmith before" while others lovingly joke "they hope to never see us again!". While it is true that most customers are one-hit wonders, we do have some pretty loyal customers! We appreciate that! If you are searching for a locksmith in Alabama to meet your needs, we invite you to consider us! We are Unlock it For Me. Licensed & Insured with over 20 Years of combined experience. We will take care of your Alabama locksmith needs.
Alabama Locksmith Association Member
UnlockItForMe is a proud member of the Alabama Locksmith Association. Their mission is to provide locksmiths in Alabama with the latest available tools and techniques, as well as advanced high-security products available throughout the industry to keep homes and businesses in our state safe & secure. The association holds Alabama locksmiths to a high standard because of this. We take security seriously. Alabama State law requires that all locksmiths must be licensed. Every licensed locksmith is issued and should carry on their person, a photo ID card. Demand to see this card before doing business with any locksmith in Alabama.
Profesional Locksmiths in Alabama
The Society of Professional locksmiths is a global organization of certified professional locksmiths and security experts. UnlockItForMe's Robert Burns is a Registered Member of the Society of Professional Locksmiths in Alabama.  They promote the educational advancements and economic interests of their members and are committed to improving conditions and raising standards through the delivery of education and peer review. The Society of Professional Locksmiths is, just that. A professional organization that embraces all levels of skill and expertise of locksmiths.
Alabama Electronic Security Board of Licensure
The AESBL is the governing authority over all locksmiths in Alabama. Be sure that you are dealing with a licensed and insured locksmith. Visit the AESBL website to learn more about locksmith licensing and view locksmith companies who are licensed to do business, as well as a list of those who are not. Click Here to view the list of licensed locksmiths in Alabama. Avoid locksmith scams. Deal with a professional.
FAST AND AFFORDABLE 24/7 HOUR EMERGENCY LOCKSMITH SERVICES IN ALABAMA
We can have a trained locksmith technician to your location in as little as 15 minutes to quickly get your home or vehicle unlocked for a low flat rate without any damage. We also make car keys!