Beauregard Alabama Locksmith
Safety and security are a top priority for everyone. Give us a call today for a free quote!
Affordable. Honest. locksmith service.
When you become locked out, or lose your car keys, it can be a hassle. With us, it won't be. We're local locksmiths just down the road from Beauregard, Alabama. Our services are dispatched out of Auburn, but we proudly service the outlying areas with our professional locksmith services. We can perform a variety of locksmith services including but not limited to the following:
AUTOMOTIVE KEYS & REMOTES
Lost Car Key Replacement Service
Parameter Reset for Ford Vehicles
Reset Vehicle Immobilizer
Smart Keys & Keyless Remotes
Transponder Keys Duplicated & Originated
OEM Quality Remote Keys & Key Fobs
30 Day Warranty on All Parts Sold
On-Site Service - We come to YOU!
COMMERCIAL LOCK & KEY SERVICE
Broken Key Removal
Door Closers Installed
Mortise & Rim Cylinder Locks Serviced & Installed
Locks Re-Keyed, Repaired & Replaced
Vandalism or Break In Restoration
Master Key Systems Designed & Installed
Interchangeable Core Lock Systems
Restricted Keyway & High-Security Locks
Lockout Service
Install New Locks
Re-Key Existing Locks
All Locks Keyed Alike
Electronic Keypad Installation
Mechanical Push Button Locks
CCTV & Digital Security Cameras
Dependable key replacement in Beauregard, AL
If your house keys are missing, this needs to be resolved quickly. You can't have your keys floating around for anyone to find. In a town like Beauregard you probably know your neighbors, but being proactive is the key to security. We can re-key your residential locks for safety. Many times a customer will think to change the locks, but not be aware that simply re-keying them is an acceptable option. If your locks are worn and unsightly then perhaps new hardware installation is in order, but if they are as shiny as the day they came out of the package, and you just want to secure the property, that can be done too! Re-keying changes out the internal components of the lock that function similar to a password. If copies of your keys have fallen into hands other than your own, rekeying the locks will solve this issue immediately.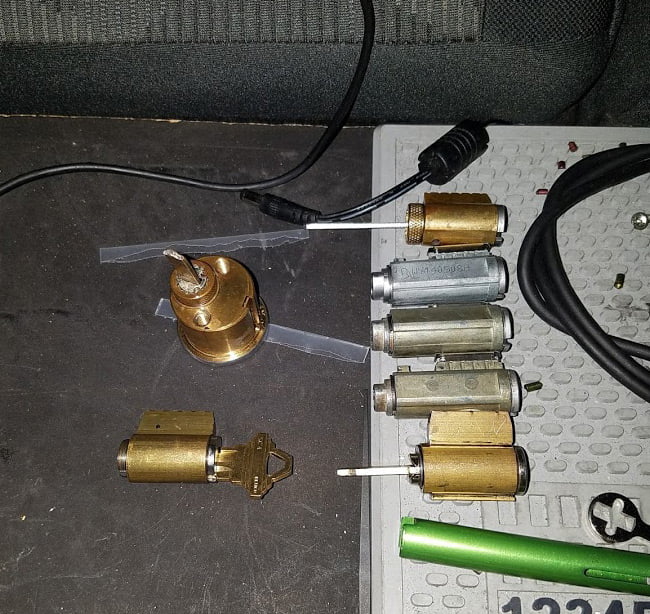 FAST AND AFFORDABLE 24/7 HOUR EMERGENCY LOCKSMITH SERVICES IN ALABAMA