Watch out For Locksmith Scams!
Beware of Bad Actors & Con Artists!
There are a lot of ads on the internet.

Some of them can lead you to a scam.
Many companies advertise suspiciously low prices for "Locksmith Service" $19, $15, even $9.99 to have a locksmith come out. But that's where the good deal turns sour. The technician arrives and you find out the truth behind the sales pitch. You agreed to have a locksmith come to your location for $19. Now he's here, now you owe $19, but you wanted him to unlock your car, that will be $50 for "labor" – What? Nearly 70 bucks for a "$19 Locksmith". With Unlock it For Me, you receive a total cost quote over the phone, that does not increase once we arrive.
Check the License for your Security
WHEN HIRING A LOCKSMITH IN ALABAMA THERE ARE THREE SIMPLE SAFETY TIPS TO KEEP IN MIND.
Home protection means feeling safe and secure from the start. The Alabama Electronic Security Board of Licensure (AESBL) is the state agency that works to protect all Alabamians by licensing locksmiths, and home security companies and locksmiths in our state.

1. ASK
Always ask the locksmith or security representative or to display proof of Alabama licensure.
WHAT IF THE COMPANY OR INDIVIDUAL REFUSES TO SHOW A LICENSE?
If they can't or won't show you a license, call the police to report unlicensed locksmiths soliciting and operating in your area.
2. CHECK
Before you hire a new provider. Before you call. Look them up!  – by name of business OR by zip code.
WHAT IF THE COMPANY IS UNLICENSED?
If they can't or won't show you a license, call the police to report unlicensed locksmiths soliciting and operating in your area.
3. NO PRESSURE
Especially if they come knocking door-to-door. Any individual representing any company may encourage you to sign a contract "on the spot", to take advantage of a "limited time offer".  Additionally, an installer crew may be "already in the neighborhood". Beware of offers that seem overly opportunistic in the sellers' favor, or in general just seem too good to be true. They often are.
WHAT TO DO IF PRESSURED TO BUY
As a consumer, you should never, EVER, feel pressured to sign anything. You are well within your rights to ask them to leave their marketing literature or materials with you. Inform the representative that if you're interested, you'll call them at a later time. A provider cannot refuse to leave your home when asked.
Learn more about the Alabama Electronic Security Board of Licensure (AESBL)
The locksmith gave her a quote over the phone of $40 but when he arrived he charged her $140.
"A hundred dollars to open the car, that was not talked about over the phone! Not at all,"
Consumers who are locked out of their homes or cars can be at the mercy of unethical locksmiths who quote one price over the phone, then increase the price considerably once they arrive. These tactics have been typically reported about locksmith businesses that claim to be nearby, but are actually located miles – or even states – away.
"I Googled 'Locksmith.' The first thing that I saw, it said $19, When the guy showed up 20 minutes later, he quoted me $165 plus the $19."
I was in a hurry. I was tired. It was cold outside. I just wanted to go get in bed. I was actually shocked when they told me it'd be $120 versus $50.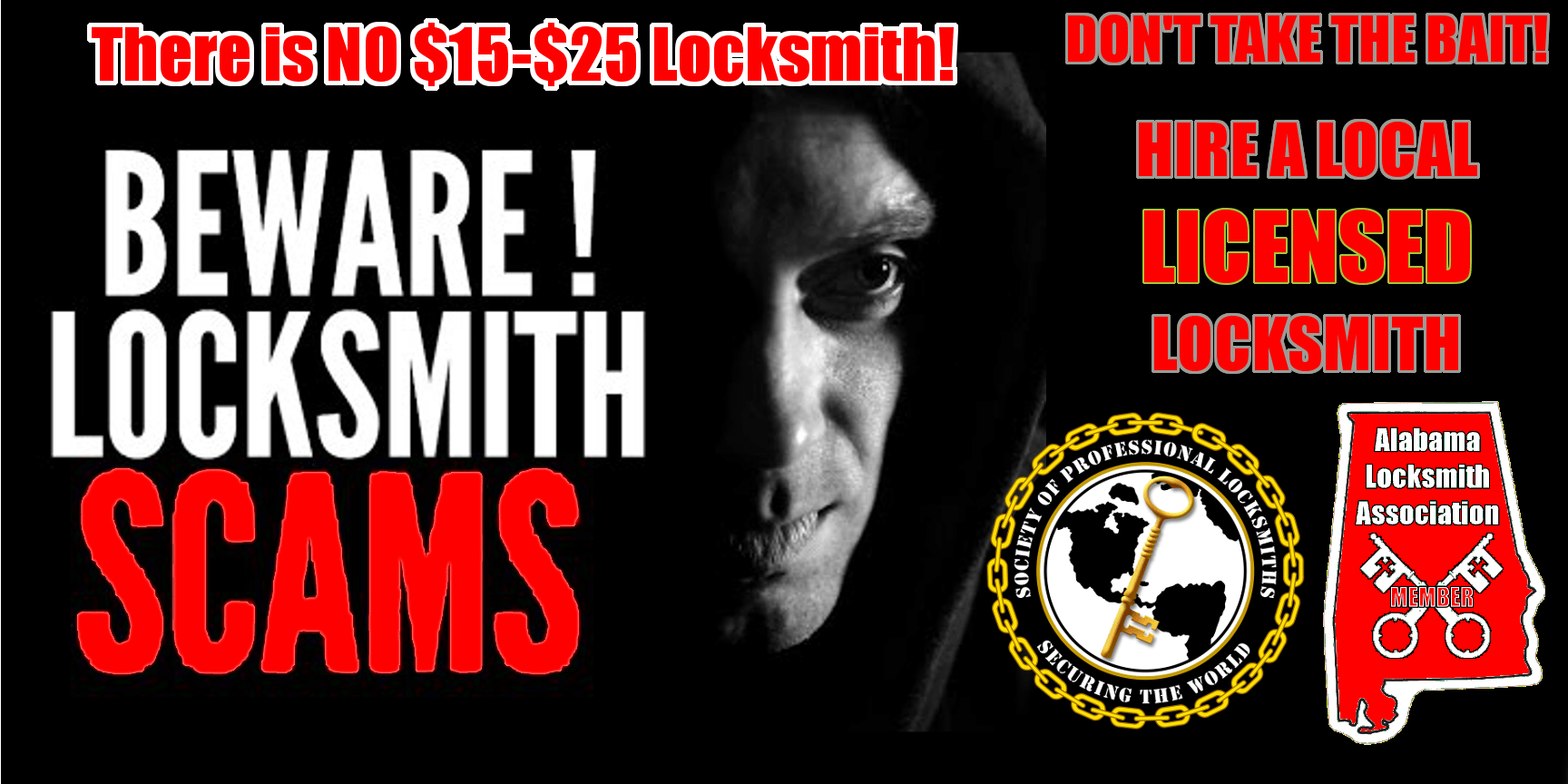 Look for identification. Legit locksmiths will show up in a marked vehicle and provide ID.
Get an invoice. If you have to dispute any work later, you will have proof of what was done. Include parts, labor, mileage, service charges, as well as the business name and address.
Always inquire about insurance. If anything is ruined during the repair, their insurance will cover losses.
Pay with a credit card. It is going to be your best option, as most cards have built-in fraud protection.
All Licensed Alabama Locksmiths are Issued a Photo ID Card by the AESBL
Verifying you are dealing with a licensed Alabama locksmith ensures you are dealing with a company or individual who has been background checked and verified to have liability insurance. All licensed locksmiths in Alabama have been background checked by ALEA and the State Beaurau of Investigation.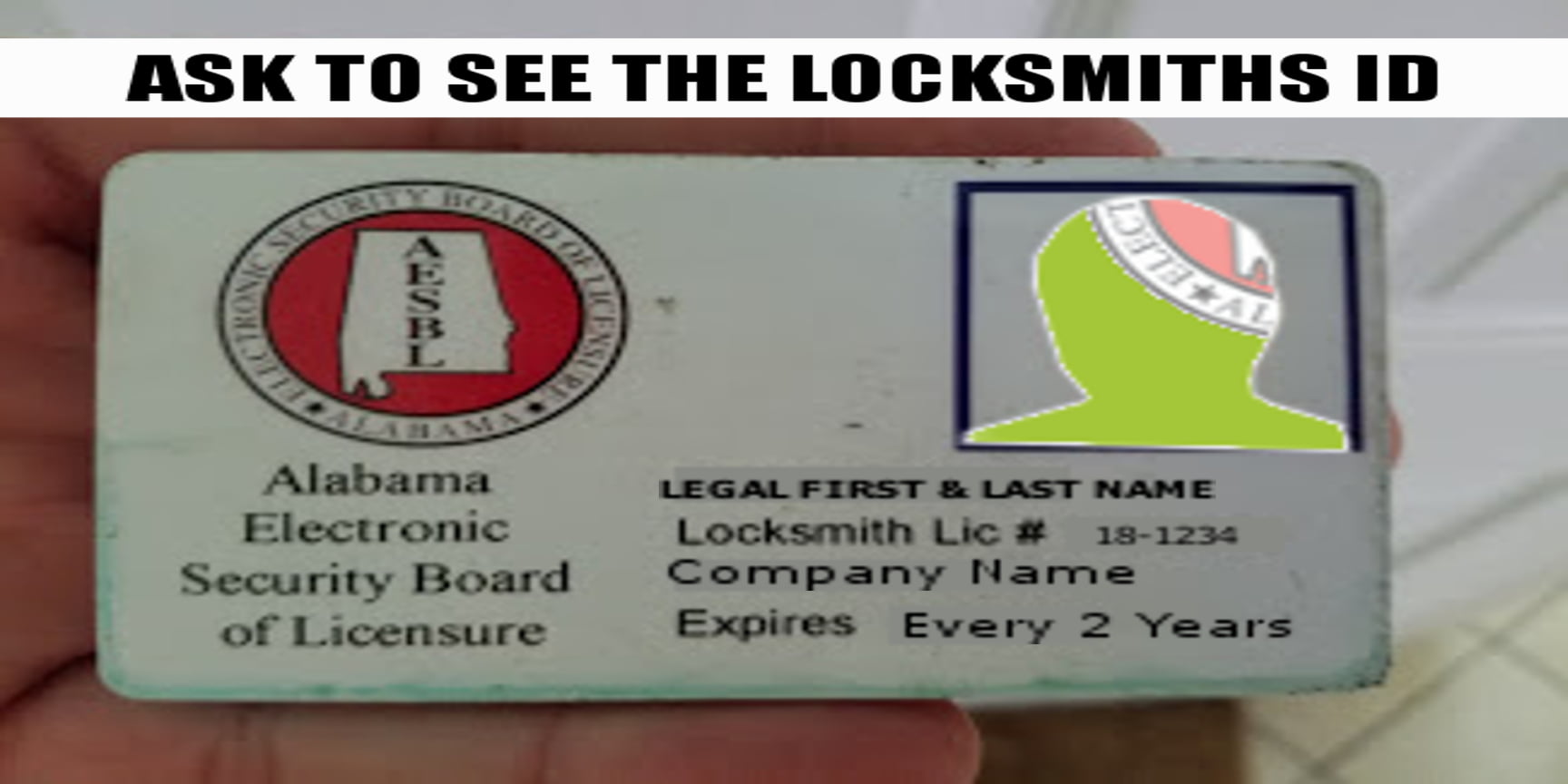 Tips for Picking a Locksmith
What's the best way to pick a reputable locksmith? Consider researching locksmiths before you need one, the same way you would a plumber, electrician, or other professional. That works well if you're looking to have some security work done at your home, like installing deadbolts on the exterior doors of your house, or a safe in your bedroom. But if you're dealing with an emergency, like being locked out of your car, you really don't have much time for thorough research. Regardless of whether you are locked out of your car or home, you need new locks installed, or you require other security work, the FTC offers these tips to help you hire a legitimate, local locksmith.
In Emergency Situations:
Calm Down. You made bad decisions when you are emotional.
Never sign a blank form authorizing work.
If the price the locksmith provides when he arrives doesn't jibe with the estimate you got on the telephone, do not allow the work to be done.
If you feel threatened or in danger call the police
Take a Look at this Article from Angie's List
http://magazine.angieslist.com/locksmiths/articles/7-tips-on-how-to-avoid-locksmith-scams.aspx
UnlockItForMe is based right here in Alabama. When you call us, you get a professional, local locksmith. No national call centers or crazy price schemes. Give us A Call Today.
RELIABLE AND HONEST CAR DOOR UNLOCKING
At Unlock it For Me we are dedicated to excellent customer service. Even if you are not a customer we want you to be protected from scams, fly-by-night "professionals" and other uncomfortable situations.
Many locksmith companies exist that like to take advantage of those in emergency situations by charging exorbitant fees they claim are "Service fees" or "Labor Fees"
We are not one of those companies. We DO NOT Operate like this. You are quoted a low, flat rate that will never go up on site.
HOW TO AVOID A LOCKSMITH SCAM
If you've ever locked yourself out of your car or home, you know what a hassle it can be. Your first thought is to get someone to help you out of your situation. If a family member or friend can't deliver a spare set of keys, your next call might be to a local locksmith. But before you make that call, consider this: According to the Federal Trade Commission (FTC), the nation's consumer protection agency, some locksmiths advertising in your local telephone book may not be local at all. They may not have professional training. What's more, some of them may use intimidating tactics and overcharge you.
When "Local" Is Really Long-Distance
Consider this scenario: A company far away from your town chooses a name for its business that is very similar to the name used by a local locksmith. The company advertises in the phone book or on the Web using a local telephone number and local address. When you call the number, you're actually connected to a call center in another city. What's more, there's no locksmith shop at the address listed.
You may be quoted a price on the phone, but when the locksmith arrives, often in an unmarked vehicle, he may want significantly more money. The locksmith also may accept only cash.
Some who claim to be "local locksmith" companies have multiple listings (sometimes 30 or more separate listings in a single phone book) with different names. But the calls to each of these numbers go back to the same central number in a distant city where operators dispatch untrained individuals to do the job.
Call family or friends for recommendations.
If you find a locksmith in the phone book, on the Internet, or through directory assistance, and a business address is given, confirm that the address belongs to that locksmith.
Some disreputable companies list street addresses to give the impression that they're local. But the addresses may belong to other businesses or vacant lots, if they exist at all.
You can verify addresses through websites that allow you to match phone numbers with street addresses. Some legitimate locksmith companies may not include a street address in their listing either because they operate a "mobile" business or they operate their business out of their home and may be reluctant to list that address.
If you call a locksmith who doesn't list an address, ask why. If the answer is that it's a "mobile" business, you will understand they have no storefront.
Write down the names of several businesses, their phone numbers, and addresses for future reference, in case you don't want to go with the first locksmith you call.
If a company answers the phone with a generic phrase like "locksmith services," rather than a company-specific name, be wary. Ask for the legal name of the business. If the person refuses, call another locksmith.
Get an estimate for all work and replacement parts from the locksmith before work begins. In cases of "lock-outs" (being locked out of your car or home), most legitimate locksmiths will give you an estimate on the phone for the total cost of the work.
Ask about additional fees before you agree to have the locksmith perform the work. Companies may charge extra for responding to a call in the middle of the night. Ask if there is a charge for mileage, or a minimum fee for a service call.
LICENSED & INSURED 24/7 HOUR EMERGENCY LOCKSMITH SERVICES IN ALABAMA
We can have a trained locksmith technician to your location in as little as 15 minutes to quickly get your home or vehicle unlocked for a low flat rate without any damage. We also make car keys!